William Huskisson
Princes Avenue, Toxteth
John Gibson, 1847
Redressed by: Harold Offeh


Artist Harold Offeh has made a sound piece telling the story of an event that took place nearly forty years ago – the toppling of the statue of William Huskisson. The statue was toppled by a group of activists offended by Huskisson's support for slavery. Harold has recorded the testimony of one of the people there on the night it happened, Stephen Nze. Stephen's story can now be heard by anyone visiting the plinth.
Queen Victoria
St Georges Hall Plateau
Thomas Thornycroft, 1869
Redressed by Peter Carney, Paula Johnson, Carmel Gittens and Emma Norbury

Peter Carney – known for the banners he makes for the Kop at Anfield – has transformed the equestrian statue of Queen Victoria, by dressing her in the colours worn by Rachael Blackmore, the first female jockey to win the Grand National. By creating his work on the statue of one of the most powerful women in British history, and her horse, Peter wants to celebrate Rachael's triumph and pay tribute to the 19 previous female riders in the race, who helped pave the way for her success. Their names and Rachael's portraits are painted on the banners by Emma Norbury and the dress fabricated by Paula Johnson.
Bill Shankly
Tom Murphy, 1997
Anfield Stadium
Redressed by Nadia Atique

Designer Nadia Atique is a lifelong fan of Liverpool FC. A rising star in the world of fashion, her Graduate Fashion Week show - a collection inspired by the colours and styles of the club kit - was featured in Vogue. For Statues Redressed, she's created a piece for the legendary manager Bill Shankly, who transformed the fortunes of Liverpool FC during his 15 years at the club. As a sign of her appreciation for all that he achieved, she's made him a cape fit for a superhero.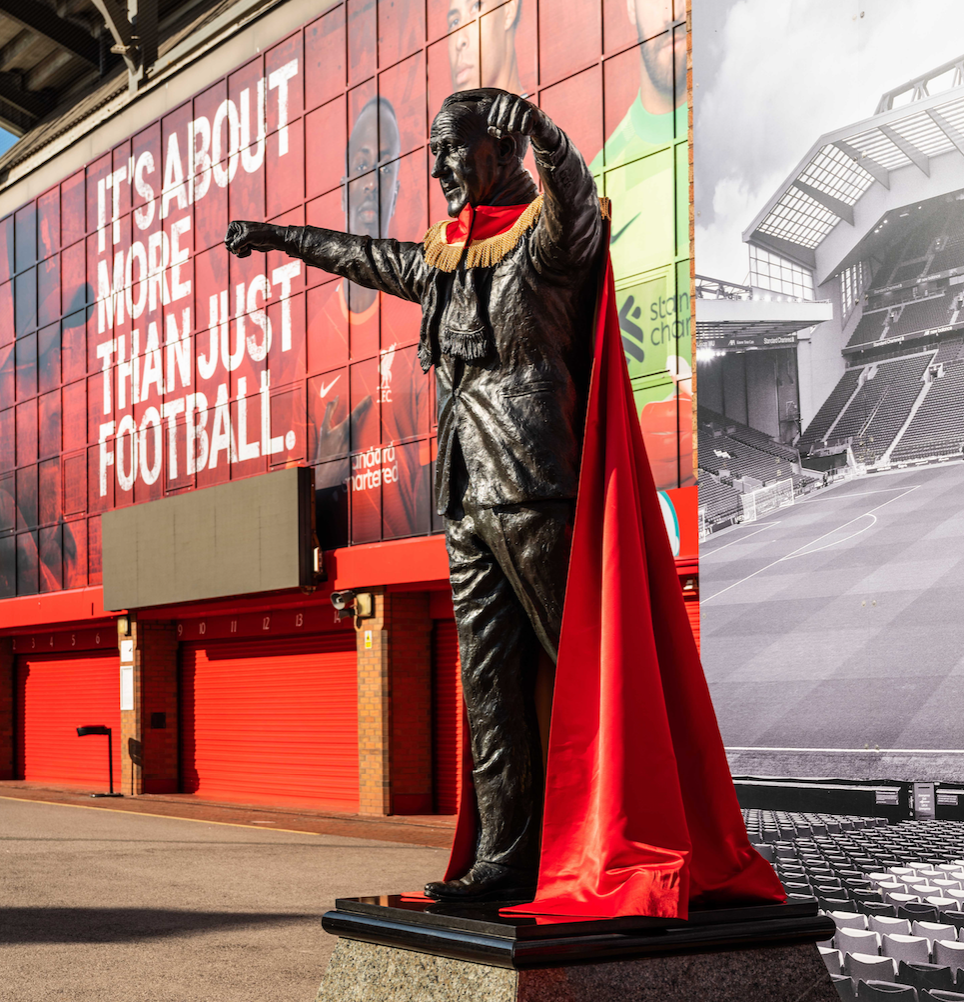 Eleanor Rigby
Tommy Steele, 1982
Stanley Street
Redressed by: Taya Hughes

Fashion designer Taya Hughes has made a dress celebrating love, not loneliness, for the statue of Eleanor Rigby in Stanley Street. Eleanor's outfit is made from recycled wedding dresses – fabric already imbued with love, as the dresses were originally worn on such happy days. Her piece is about Liverpool itself – with the letters LOVE sewn on in the red and blue colours of the football teams. Taya was very touched by the warm welcome she received when she first moved to Liverpool, so the piece is a reflection on the friendly nature of the city, and a reminder that we should reach out to 'all the lonely people', at a time when loneliness has been on the rise.
Peter Pan
George Frampton, 1928
Sefton Park
Redressed by: Mary Lamb

Costume designer Mary Lamb and a group of young children celebrate the magic of the Peter Pan statue in Sefton Park, an exact replica of the original in Kensington Gardens, London.

With the children dressed in fantastical outfits, and a new hat for Peter, Mary Lamb's redressing of the statue explores the storytelling in the sculpture, and the fact that it was commissioned in 1928 as a gift for the children of Liverpool.


Thanks to Open Culture for their help in staging the Peter Pan spectacle!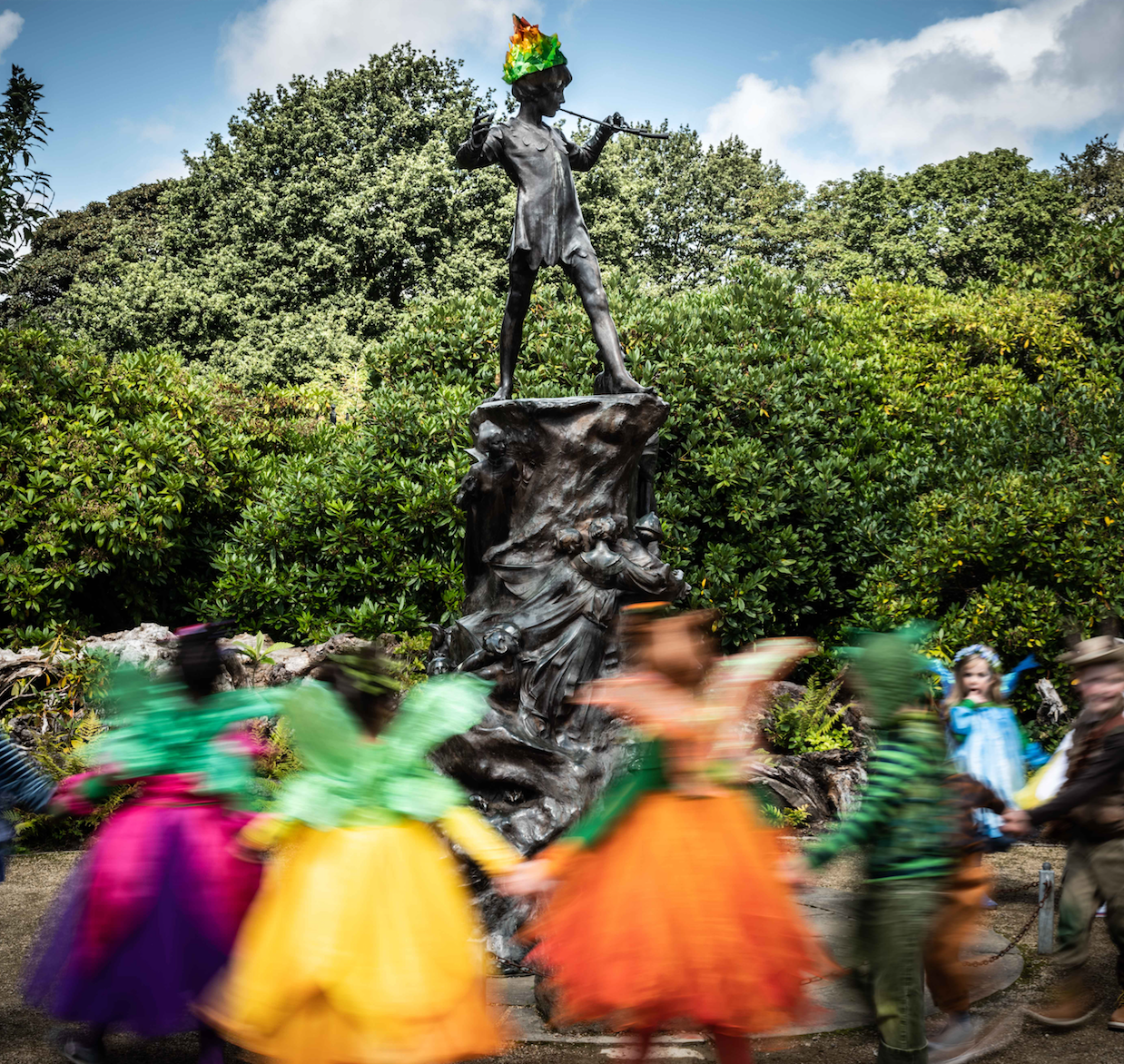 The Beatles
Andy Edwards, 2015
Pier Head
Redressed by: Stephen Jones

Celebrated milliner Stephen Jones OBE - who grew up in Liverpool - has created spectacular hats for the iconic statue of The Beatles, each inspired by a different Beatles song - Yellow Submarine for Ringo; Penny Lane for Paul; Help for John; and Here Comes The Sun for George.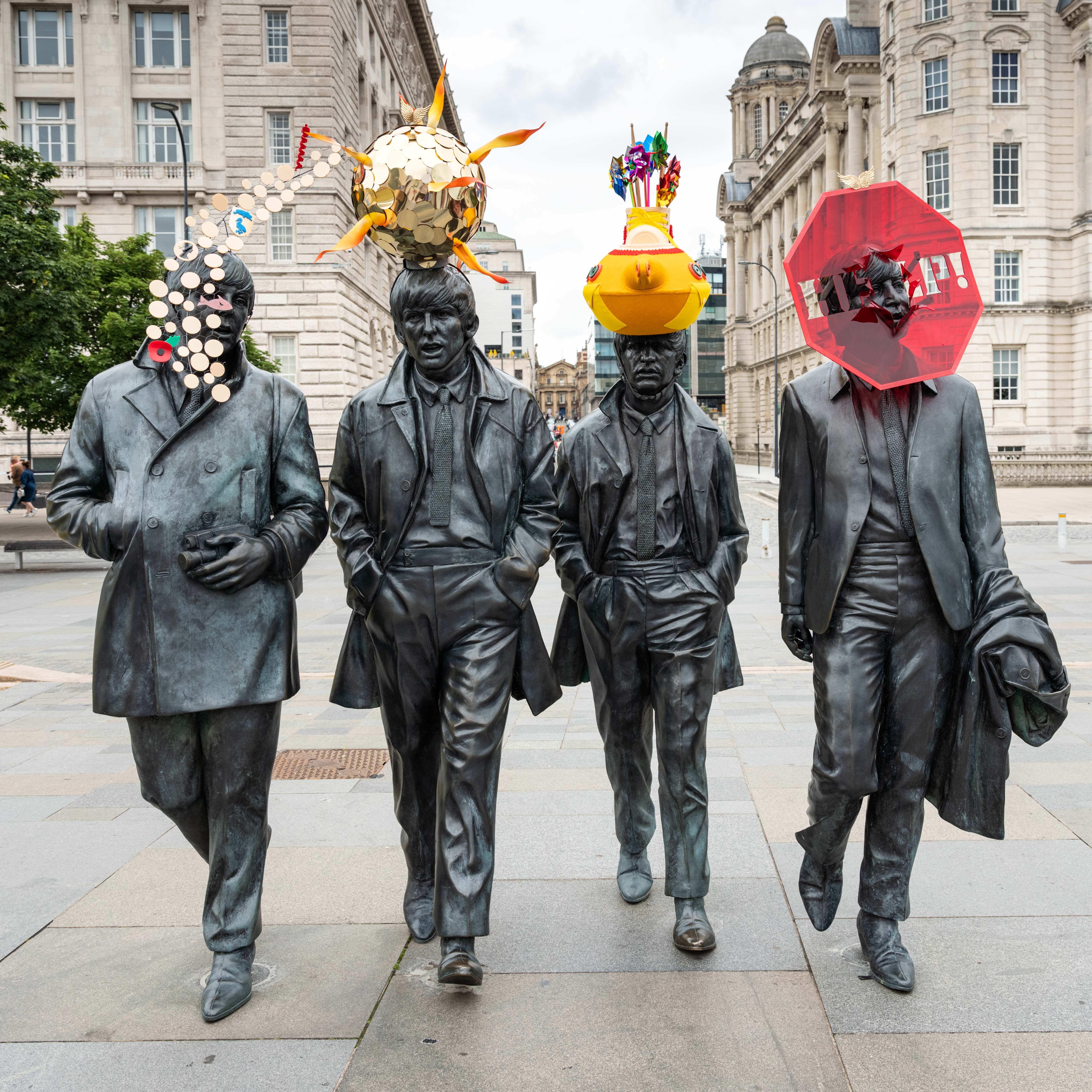 Queen Victoria Monument
CJ Allen, 1906
Derby Square
Redressed by: Karen Arthur & Laurence Westgaph
Fashion Creative Karen Arthur collaborated with historian Laurence Westgaph, to create a stunning cotton and hessian dress for the Queen Victoria monument inspired by Gone With The Wind.
During Victoria's reign, cotton played a crucial role in Liverpool's trading activities, and the wider economic success of Britain, but up until the American Civil War in the 1860s, this cotton was being picked by enslaved people in the United States - as depicted in the film.
The upcycled hessian transported goods from the African continent which added to Britain's wealth. This satin patchwork cloak pays homage to a handmade quilt gifted to Queen Victoria by Martha Ricks, a black woman who travelled from Liberia especially to meet her idol.
This piece reflects on Liverpool's complicity with slavery, and how Queen Victoria and Britain were beneficiaries of that as recently as 150 years ago.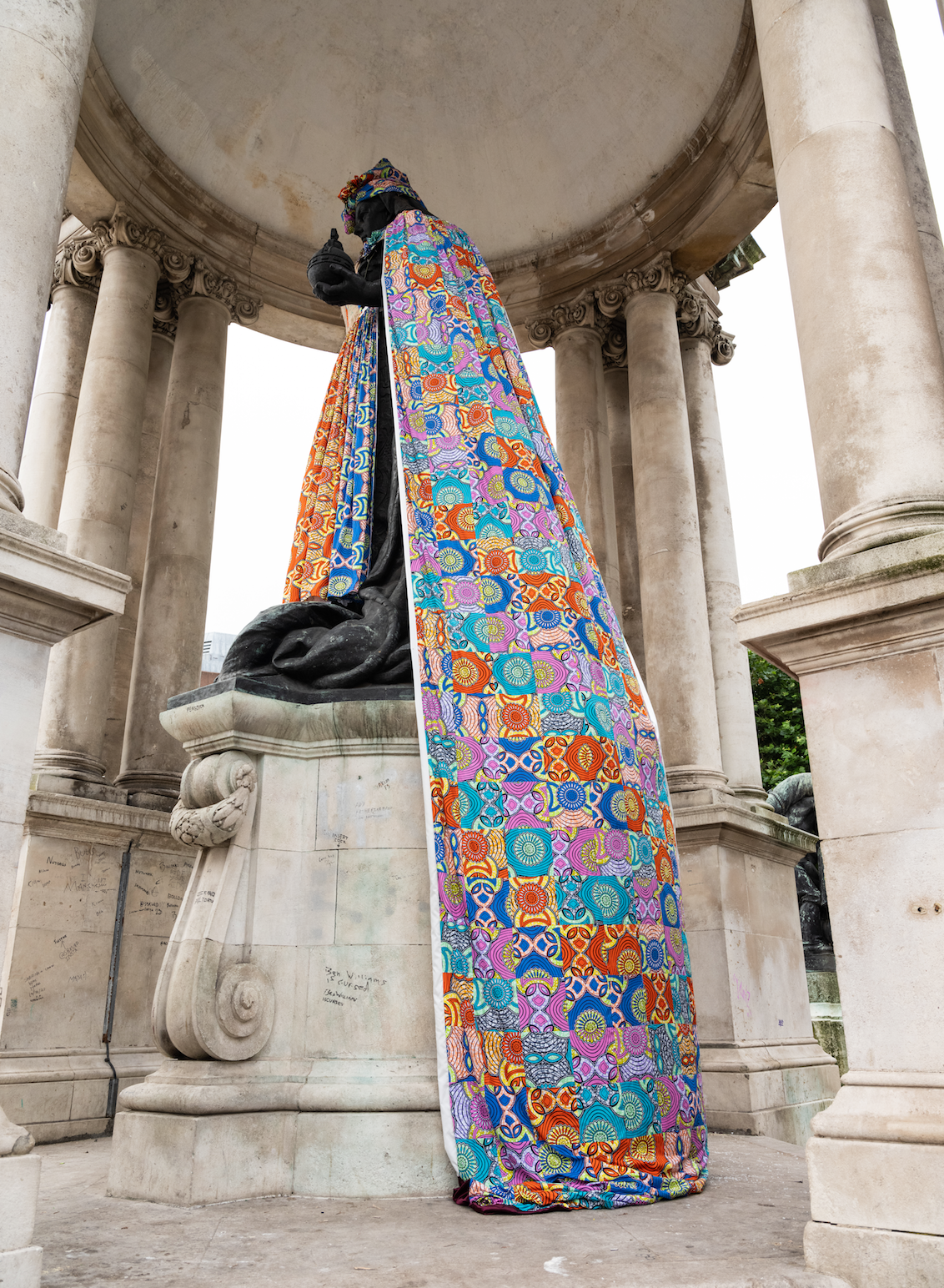 William Gladstone
Thomas Brock, 1904
St Johns Gardens
Redressed by: Larry Achiampong
Larry Achiampong has redressed this giant bronze statue of Gladstone by wrapping a pan-African flag tightly around his body. The flag features 54 stars that represent the 54 countries of Africa, and its green, black and red colours reflect, respectively, its land, its people and the struggles the continent has endured. The yellow background represents a new day and prosperity. This piece - located in the graveyard where enslaved people in Liverpool were buried - is a response to the fact that William Gladstone's family fortune came from plantations and slavery.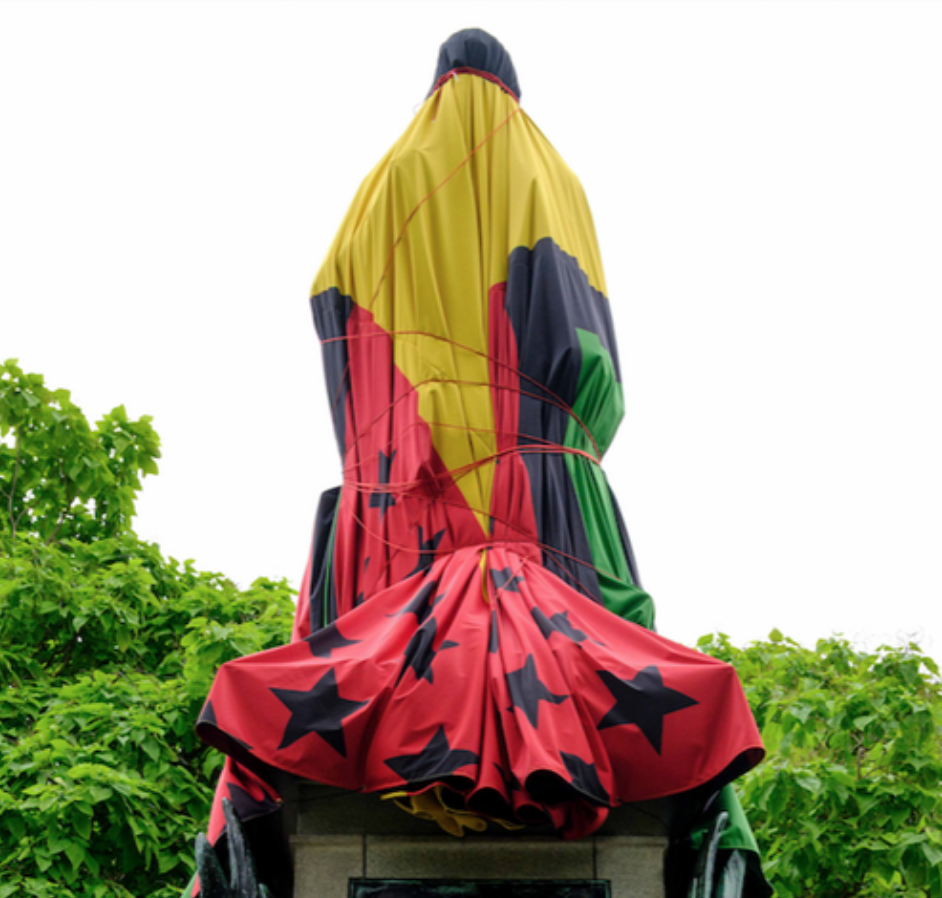 Liverpool Resurgent
Jacob Epstein, 1956
Lewis' Building
Redressed by: Bob and Roberta Smith

Epstein was a controversial figure at the start of the 20th century, producing public art which was met with scandal initially and which over time has become recognised for the extraordinary quality and bravery it exhibits. This sculpture - known as 'Dickie Lewis' in Liverpool - has always been an iconic meeting spot and was a symbol of the city's comeback after the end of the Second World War.
Bob's response brings all of these ideas together – the importance of art as a free, public commodity, the critical role it can play at times of upheaval and the importance of the artist in progressive societies. His piece – like Epstein's before him – aims to bring hope and inspiration to the people of Liverpool this summer.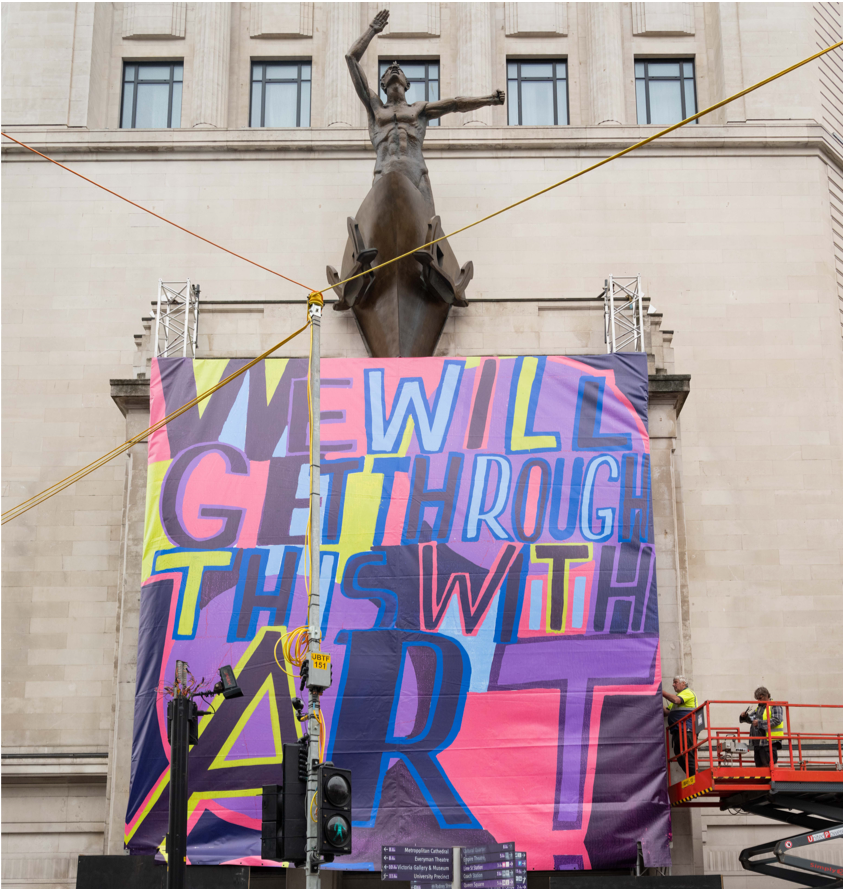 Disraeli
Charles Bell Birch, 1883
St Georges Hall
Redressed by: Daniel Lismore

Historians and biographers have debated at length the life of Disraeli. Renowned as a flamboyant dresser, and with a history of intense relationships with men, there seems a duality that under his watch vicious anti-homosexuality laws were imposed by Britain across the Empire.


Building on the title which Disraeli established for Queen Victoria, 'Will the real Empress of India please stand up?'' asks us to consider the extreme impact and discrimination of these laws for the LGBTQ+ community throughout history and to the present day, while also questioning what historical social structures did to stop individuals living their own truths.
Another Place
Antony Gormley, 2005
Crosby Beach
Redressed by: Various

Antony Gormley's 100 life-sized cast-iron men stretch three kilometres along the beach and almost one km out to sea.
The sculpted figures, which are often hard to tell apart from the people walking amongst them, inspire us to think about both the vulnerability of life, and its possibilities. The piece has become a place of contemplation and consolation for many, particularly during Covid – so for this project, Gormley invited people to stand with the statues, reflect on personal experiences of the pandemic, and 'in some way do what the work is doing'.

Thanks to all his collaborators:
Becky McEneany & Amie Reddy: Intensive care nurses
Zi Lan Liao: CEO of Pagoda Chinese Orchestra
Jean Stirling & Matthew Burbage: Care workers
Karen Owens: Bus driver
Dorcas Seb: Performance poet
Christopher Columbus
Henry the Navigator
Captain Cook
Leon-Joseph Chavalliaud, 1898
Sefton Park
Redressed by: Taya Hughes

For centuries, historical accounts have celebrated the Empire-building endeavours of European explorers, claiming they 'discovered' whole continents, while ignoring indigenous populations. It's a version of history that's now inspired this three-part installation by designer Taya Hughes, from fashion label Tayamika.
Three elaborate Elizabethan style ruffs made from traditional fabrics associated with the indigenous populations of Africa, New Zealand and Australia, speak to Taya's personal experience of growing up in Zimbabwe as well as a wider critique of colonial rule and the cruelty and exploitation inflicted across the globe on peoples whose stories and cultures were cut out of history for so long.
The Moores Brothers
Tom Murphy, 1996
Church Street
Redressed by: Chila Kumari Burman

This simple, affectionate response celebrates a unique relationship between artist and sculpture. Having moved to Liverpool from India, Chila's Dad owned an ice cream van on Victoria Road in Formby – where John Moores lived – and the two men became close friends.

It is a rare thing for someone you knew to be cast in bronze. Chila's work reflects more upon the compassion and joy of the person, rather than upon the artwork.
Empty Plinths
No artist
St Georges Hall
Redressed by House of Suarez
Surrounded by statues of eminent Victorians, LGBTQIA+ dancers occupy a space they would historically have been banned from.

Combining contemporary dance and voguing, while wearing opulent golden catsuits, the dancers' performance is a joyful expression of the right to recognition, which also questions the importance of context.

The dancers catsuits were made by Mary Lamb.
Kitty Wilkinson
Simon Smith, 2012
St Georges Hall
Redressed by Chila Kumari Burman

As a child growing up in Liverpool, Chila knew the story of Kitty Wilkinson - The Saint of the Slums - who fought for cleanliness for the poorest in society.

Chila chose to celebrate this heroic work as one would a Hindu Goddess, for all that she did for the people of Liverpool.
Liverpool Portrait Bench
Sustrans, 2012
Everton Park
Redressed by: Sarah Corbett & The Craftivist Collective

Using craft as a gentle tool for hopeful activism is the inspiration behind this piece. Twelve handmade canaries have been attached to this statue to attract and intrigue the public in engaging in a cleaner, greener future.

The portrait bench shows three historical figures - Kitty Wilkinson, Molly Bushell and an unnamed dockworker - who helped to create long-lasting positive change in Liverpool and beyond.

Inspired by these people from the past to help change our future, the craftivists from across Liverpool came together to encourage power-holders to act faster and bolder to address global warming before it's too late.

Follow the journey with #CanaryCraftivists
Billy Fury
Tom Murphy, 2003
Liverpool Waterfront
Redressed by: UNESCO City of Music Office

Born Ronald Wycherley in Liverpool, Billy Fury became famous in the Sixties as a rock and roll star - equalling The Beatles' record of 24 chart hits during the decade. He was often described as 'the British Elvis', and even after his memorialisation in statue form, the comparisons with Elvis haven't stopped. This bold neon sign, placed by Kev McManus - Head of UNESCO City of Music for Liverpool - reminds passers-by that this statue is of one of the greatest musicians this city has ever produced, and not, in fact, of Elvis Presley.

Billy's sign was made by Ken Bullock.
Photography credits:
David Edwards
John Johnson
Jonathan Cherry